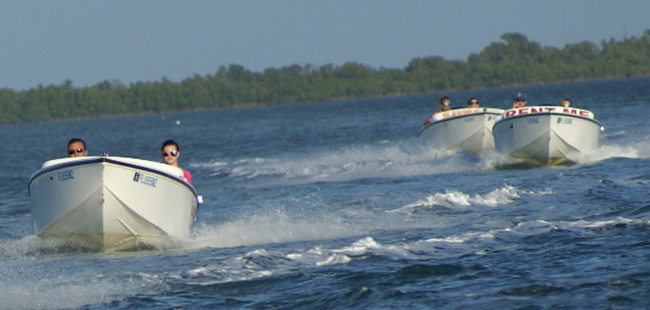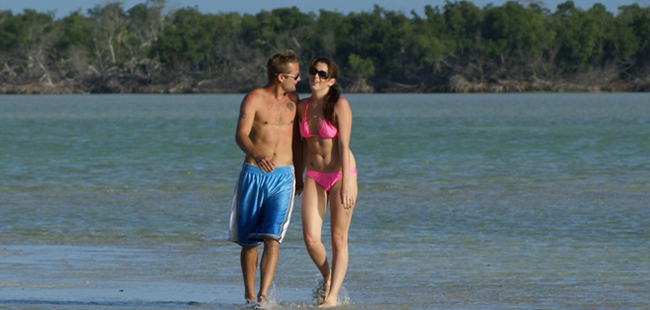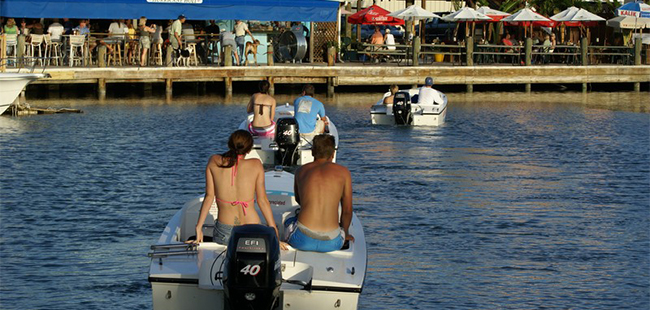 Guaranteed Low Price
No Booking Fees
No "COUPON" Required
Limited Spaces Available! For reservations call (877) 243-2378. Spaces are extremely limited this time of year so book early to ensure the date you want.
TOUR SUMMARY
Our Speed Boat Adventure Tour offers Key West vacationers an unsurpassed thrill ride through the pristine waters of the area. This amazingly fun guided tour will transport you into the beautiful back country waters near Key West. Not only do participants get the opportunity to enjoy some high-speed exhilaration while zooming across the turquoise waters aboard our state-of-the-art speed boat, but they also have the chance to witness the unique natural wonders in this coastal paradise. The Mangrove Islands not only offers visitors some amazing mazes of waterways that wind through the mangrove growth, it also is a teeming marine habitat full of amazing plant and animal species, like sea turtles, dolphins, mantas, sea birds, and tropical fish. There are also many interesting indigenous plant species growing in this area. You will be awestruck by the unmatched splendor of these islands.
You can handle the controls of your very own speed-boat while maneuvering it through the splendid waters of this area. On this excursion, youll be accompanied by a savvy local tour-guide who knows the layout of the marvelous waterways of this region. You will experience ample thrills exploring the back country under the guidance of our personnel on this aquatic adventure.
You will also have the opportunity to slow down and appreciate the natural marvels of this gorgeous environment. Step out of the boat to relax on a remote isle where you can view the panoramic seascape of this maritime oasis. You can also take some time to explore the vibrant coral reefs of this area by snorkeling. The Florida Keys is home to the only living coral reef on the east coast of North America - do not miss your chance to witness this one-of-a-kind natural wonder.
Speed Boat Adventure Highlights
20 mile adventure through the Key West back country
Attentive and Friendly Crew
Small Group Experience
Fast Paced and Exciting
Fun for the Whole Family
Safe and Comfortable
Knowledgeable Local Guides
What is the weather cancellation policy?
If the activity must is cancelled due to bad weather, and you cannot reschedule, you will be issued a full refund.
Where is the departure point for this tour?
Check-in instructions will be included in your activity confirmation email.
Where can I park?
There is metered parking available near the check in facility
You are responsible of making sure you are aware of and understand all restrictions pertaining to this tour before booking online or over the phone. It is your responsibility to ensure that you are medically qualified and within any limits listed below in order to participate in this activity. No refunds will be given to those who reserve a spot and can not participate due to the restrictions listed below. For full details on our cancellation policy click here or with any questions regarding your ability to participate call our staff at (877) 243-2378 with any questions.
Tour Restrictions
All boat drivers must have a valid Drivers License or International ID
All drivers must be at least 18 years old
All drivers born on 1988 or after MUST take a 30-minute Boaters Safety Test. Please arrive early enough to give yourself time to complete this test
Children must be at least 5 years old
Each speed boat must have 2 passengers
| | | | | | | |
| --- | --- | --- | --- | --- | --- | --- |
| Mon | Tue | Wed | Thur | Fri | Sat | Sun |