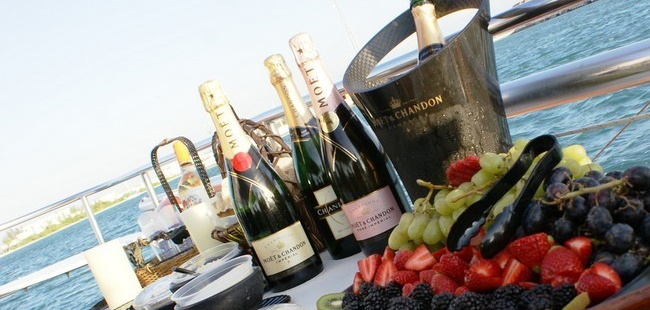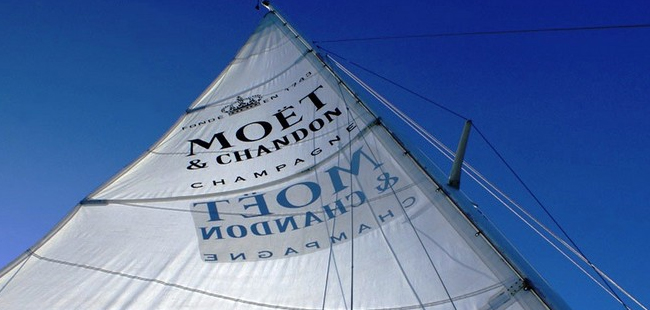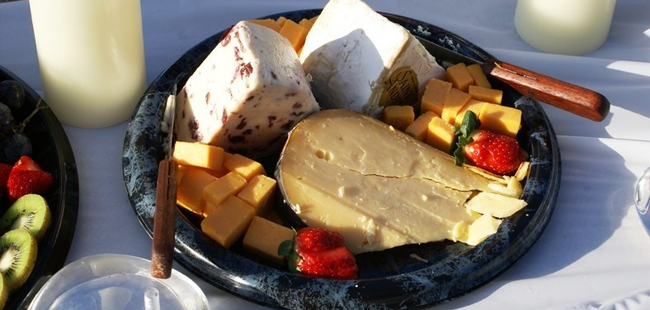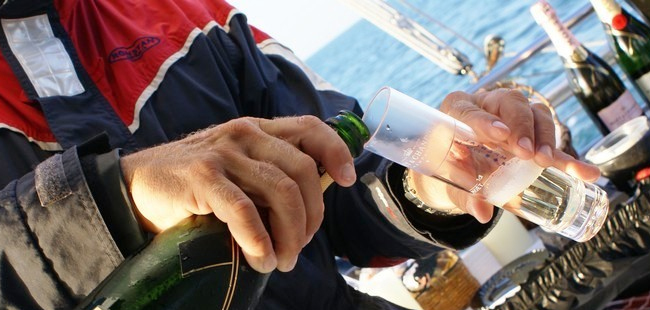 Guaranteed Low Price
No Booking Fees
No "COUPON" Required
Limited Spaces Available! For reservations call (877) 243-2378. Spaces are extremely limited this time of year so book early to ensure the date you want.
TOUR SUMMARY
Is there a better combination for romance than a fine bottle of champagne and an amazing Key West sunset? Join our accommodating staff for an intoxicating sunset sailing excursion into the splendid waters off the shores of Key West, Florida.
Our friendly crewmembers will pop the cork of the bubbly once we get underway. Our featured beverage comes from the vineyards of the Moet and Chandon Winery in the exclusive Champagne region of the French countryside. This massive operation covers over two thousand five hundred acres of grape vines. Annually, the winery itself produces more than twenty six million bottles of premium bubbly for distribution throughout the globe, including to Key West as well as the ice box of the Queen of England, Elizabeth II. As well as serving the superb Moet and Chandon champagne, we also offer passengers an assortment of wines from across the globe, including offerings of Shiraz, Chardonnay, Pinot Noir, and Pinot Grigio. We also offer a fine menu of upscale beers, as well as non-alcoholic beverages.
But, what really makes this a truly unforgettable cruise is the astounding Key West sunset as viewed from the decks of our sleek sailing vessel. As the golden orb slowly descends towards the water on the western horizon, a dazzling array of warm colors will reflect off the shimmering waters creating a unique scene of picturesque splendor. This scene truly epitomizes the breathtaking beauty of the natural world. You will not find a more amorous setting to share a kiss with a loved one.
Moet and Chandon Highlights
Relaxing Way to end the Day
Serving Upscale Wine from France and California
Limited Number of Passangers to Ensure Exclusivity & Comfort
Also Includes Pinot Grigio, Chardonnay, Pinot Noir, and Shiraz
What is the size of the boat?
This sailing catamaran boat is 28 feet. The boat is licensed to hold up to 28 passengers but we never take more than 14.
What is the weather cancellation policy?
If the activity must is cancelled due to bad weather, and you cannot reschedule, you will be issued a full refund.
Where is the departure point for this tour?
Check-in instructions will be included in your activity confirmation email.
Where can I park?
There is metered parking available near the check in facility
You are responsible of making sure you are aware of and understand all restrictions pertaining to this tour before booking online or over the phone. It is your responsibility to ensure that you are medically qualified and within any limits listed below in order to participate in this activity. No refunds will be given to those who reserve a spot and can not participate due to the restrictions listed below. For full details on our cancellation policy click here or with any questions regarding your ability to participate call our staff at (877) 243-2378 with any questions.
Tour Restrictions
Crew gratuity is customary and is not included in price
All guests must be 21 years old or older
Departure times vary throughout the year (check-in is always 30 minutes prior to departure time)

April - 6:00PM departure
May through August - 6:30PM departure
September - 6:00PM departure
October - 5:30PM departure
November - 4:00PM departure
December - 4:00PM departure
January - 4:30PM departure
February - 5:00PM departure
| | | | | | | |
| --- | --- | --- | --- | --- | --- | --- |
| Mon | Tue | Wed | Thur | Fri | Sat | Sun |